Announcement Date: September 17, 2019
The Behavioral Health and Economics Network convened its state partners for the annual National Forum in Washington, D.C. during the largest behavioral health advocacy event of the year, Hill Day 2019. The forum included a closed-door lunch with BHECON partners and supporters as well as two BHECON-sponsored panels as part of the Hill Day programming. The two panels "Emerging Issues: Behavioral Health and the Criminal Justice System," and "Bring Hill Day Home: Best Practices for In-District Advocacy," featured presentations and expert advice from BHECON partners in Missouri, Kansas, Connecticut and Minnesota.
During the lunch, attending state partners shared insights on the intersection of the criminal justice and behavioral health systems as it applies to each of their states, and proposed policy solutions to be included in BHECON's third consensus statement as we narrow our focus to criminal justice-related issues. Attendees expounded on the importance of crisis intervention, diversion programs, supports for behavioral health providers that interact with individuals who come into contact with the criminal justice system, a smooth continuum of care throughout contact with the criminal justice system, addressing suicide in jails and prisons, and more. The themes shared throughout the lunch will be distilled into the third consensus statement to be published later this year.
The session titled "Emerging Issues: Behavioral Health hand the Criminal Justice System," featured federal insights from the National Council's Director of Federal Policy and Advocacy, Michael Petruzzelli, as well as state-level insights from Brent McGinty, President and CEO of the Missouri Coalition for Community Behavioral Healthcare, and Colin Thomassett of Kearney and Associates in Kansas. The panelists highlighted current innovations taking place in the space, including specialized treatment courts, community mental health liaisons and Crisis Intervention Team trainings in Missouri. Colin offered lessons learned from Kansas, where behavioral health providers were not included in the planning of major juvenile justice reforms in 2016, leading to a treatment vacuum as the behavioral health field was not able to ramp up in parallel to the reforms. Attendees, who filled the room over capacity signaling the appetite for information in this space, were encouraged to bring the lessons they learned during the session into their meetings on Capitol Hill while they advocated for policies like the Excellence in Mental Health and Addiction Treatment Expansion Act (S. 824/H.R. 1767) and Medicaid Reentry Act (H.R. 1329).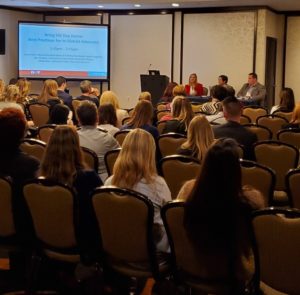 Panelists for the session, "Bring Hill Day Home: Best Practices for In-District Advocacy," included Jinny Palen, Executive Director of the Minnesota Association of Community Mental Health Programs, Ben Shaiken, Manager of Advocacy and Public Policy at the Connecticut Community Nonprofit Alliance, and Catherine Finley, Partner at Thorn Run Partners. The expert advocates shared their insights on sustaining relationships with both federal and state legislators beyond participating in fly-ins to D.C. once a year. As Jinny and Catherine noted during the session, legislators are more likely to be willing to help you when they can if you develop a relationship beyond only asking them for legislative support. By communicating regularly with updates and news from your field, hosting site visits when possible, and attending in-district town halls, you will have stronger relationships to call upon when you need support. Additionally, "building coalitions and partnerships with other organizations and advocates in your field is invaluable for in-district advocacy," according to Ben. "If you're having a hard time making a connection with your legislators, your partners may have stronger relationships or other areas of expertise than can bolster your efforts."