Announcement Date: January 16, 2019
On January 16, 2019, BHECON joined the Association for Behavioral Healthcare, the Massachusetts Association for Mental Health, and the Blue Cross Blue Shield of Massachusetts Foundation hosting a half-day forum on co-occurring behavioral health conditions and policy solutions to improve treatment outcomes.
The forum, "Innovative Approaches for the Prevention and Treatment of Co-occurring Mental Health and Substance Use Conditions," gathered national and local experts who outlined a variety of successful interventions and models in the space. More than 120 attendees, including mental health and substance use disorder (SUD) treatment providers, state health officials and legislative staff, and associations and organizations engaged in conversations on how to improve access to comprehensive treatment.
Individuals living with mental illness are at higher risk than the general population for SUD, and vice versa.
Of the 3.4 percent of adults who live with any mental illness and co-occurring substance use disorder, almost half do not receive health care services for either condition and only 7 percent received specialty treatment for both conditions.
This morning, @MassHHS Secretary @MLSudders joined the @BHEconNetwork's conference looking at innovative approaches for the prevention and treatment of co-occurring mental health and substance use conditions #BH365 pic.twitter.com/ksUBPq3heJ

— MASS HHS (@MassHHS) January 16, 2019
Marylou Sudders, Massachusetts's Secretary of Health and Human Services, spoke of her vision to move the state toward a more integrated health system that treats the health needs of each person seamlessly. "If we don't draw attention to the segmented nature of primary care, mental health, and substance use disorder treatment, we cannot address it," said Sec. Sudders. "It is clear that we must create a system with a true continuum of care." While the Secretary acknowledged the large amount of work needed to bring about this level of reform, attendees left feeling encouraged that she is actively working toward helping Massachusetts residents living with co-occurring conditions.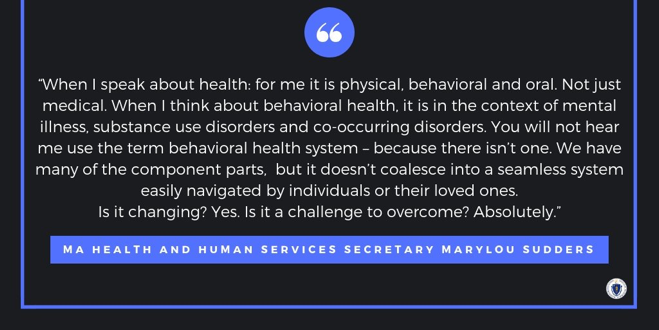 Opportunities for Growth Abound in Massachusetts
David Seltz, executive director of the Massachusetts Health Policy Commission, overviewed findings and policy recommendations from the Commission's survey on availability of co-occurring disorders treatment in the state. Survey results show the intensity of Massachusetts' gaps in serving individuals with co-occurring conditions and the path forward to addressing these shortages. Only 29 percent of behavioral health clinics and counseling sites in the state are appropriately licensed to treat both mental illness and SUD and rural western Massachusetts residents and those on the Cape have a particularly difficult time accessing services.
The Health Policy Commission's report drove home the need to engage in improving data collection and infrastructure, investing in the state's behavioral health workforce and licensure and working to fully integrate care.
A panel of national experts shared concrete next steps for taking on such a large-scale system transformation to begin integrating care for people with co-occurring conditions. Kenneth Minkoff, M.D., COO of ZiaPartners, and Yaberci Perez-Cubillan, LCSW-R, vice president of Behavioral Health Services at the Acacia Network in the Bronx, N.Y., provided insights on models that other states and organizations have undertaken to move in the right direction. Since becoming a Certified Community Behavioral Health Clinic (CCBHC) – a federally recognized new provider type under Medicaid – Acacia Network has been able to expand their service array, increase their access to care and hire well-qualified staff to better meet the needs of individuals with co-occurring disorders, all under one roof. Although Massachusetts is not one of the eight states participating in the two-year CCBHC demonstration, a handful of clinics have received grant funding to make changes similar to the ones Perez-Cubillan highlighted from her clinic in New York.
Heather Gotham, Ph.D., director of the Mental Health Technology Transfer Center Network Coordinating Office, discussed measurement tools that can help clinics enhance their programs and ensure they implement them effectively to better serve individuals with co-occurring conditions. Often behavioral health providers and clinics  rate themselves well in their capability to provide comprehensive services for these populations, but independent analyses indicates otherwise. Dr. Gotham overviewed a handful of evaluations that can help clinics more accurately identify their areas for growth, including the Dual Diagnosis Capability in Addiction Treatment (DDCAT), the Dual Diagnosis Capability in Mental Health Treatment (DDCMHT) and the Behavioral Health Integration in Medical Care (BHIMC).
Massachusetts Providers Lead the Way with "No Wrong Door" Approach
Representatives from local behavioral health organizations proved integrated care that addresses co-occurring disorders is possible within the health system and funding structures available to organizations in Massachusetts. Emily Stewart, executive director at Casa Esperanza, Inc., in Roxbury, Mass., described how their bilingual, bicultural health center has grown into the integrated care space. By creatively weaving together funding, investing in a well-qualified and passionate workforce and ensuring that everyone who walks into their clinic receives help, they have decreased homelessness and emergency department visits among their patients while increasing employment, sustaining care and recovery and connecting clients to primary care.
Nancy Paull, M.S., CEO of Stanley Street Treatment and Resources in Fall River, Mass., added that a person-centered approach is critical to serving individuals with co-occurring conditions. Not only do clinics need to provide evidence-based interventions with integrity, but supplemental special activities go a long way toward improving client engagement, their treatment, and their overall wellbeing.
The day's presentations include the following:
Preventing and Treating Co-occurring Behavioral Health Conditions: Best Practices from Around the Country
Closer to Home: Co-occurring Mental Health and Substance Use Conditions in Massachusetts
Presentation of Findings of Dual Diagnosis Study