Announcement Date: January 13, 2017
On January 12, 2017, the Rehabilitation & Community Providers Association (RCPA) in partnership with BHECON (the Behavioral Health + Economics Network) brought together diverse stakeholders for a discussion on using data to move the behavioral health system from paying for volume to value.
Opportunities and Innovation for Reporting: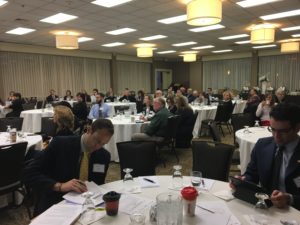 As more behavioral health providers move to electronic health systems/records, they are tapping into efficiencies and innovations that come with the ability to analyze their own data sets.  Providers at the BHECON forum shared ways they are already leveraging data to improve patient outcomes, reduce waiting times, set benchmarks for performance, and reduce the overall cost of care.  Attendees agreed that the ability to demonstrate the value of the services provided at community based behavioral health clinics would become increasingly important to payors and the state over the next few years.
One provider expressed his willingness to collaborate and find solutions, "There is a significant opportunity here to not only improve access, and streamline workflow but also to reduce costs while improving outcomes… just by simply updating current reporting regulations for today's health care environment. And we're happy to help."
Potential Policy Changes to Streamline Reporting Requirements:
Providers recognized that they were responsible for preparing their practices for a value based payment model and offered suggestions for improving data collection to enable system transformation.  Currently, they report to numerous entities, including the federal government, the state, the county, MCO's, and many others.  Attendees suggested a number of policy changes that could streamline quality reporting, including, consolidating the reports, standardizing the reporting forms, and implementing a singular method for submission, preferably electronic transmission.  A solution as simple as a statewide-accepted definition for "hospital stay" could help standardize reporting forms and reduce reporting burdens on providers.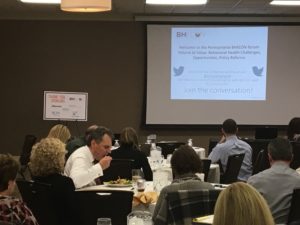 Providers acknowledged that technology would play a large role in implementing many of the desired reforms.  This means that providers, payors, and government agencies will need to coordinate systems to strengthen interoperability.
Providers explored the nature of the metrics they are required to report on and debated the merits of other outcome-based measures.  One attendee summarized her dilemma in reporting, stating, "I know how many treatment plans have been signed by a physician, but I don't know the outcomes of the treatment plans and cannot compare their efficacy."
Provider Driven Solutions and Opportunities for the Future:
Moving forward, RCPA announced that they would convene a workgroup to explore data and quality improvement initiatives.  The workgroup will convene to discuss topics such as:
Defining what a "better" system looks like
Quantifying the losses associated with the amount of time and money spent meeting the reporting requirements
Identifying other inefficiencies in the system and possible solutions