Announcement Date: April 22, 2018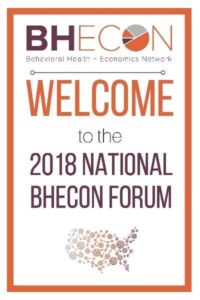 On April 22, 2018, the Behavioral Health + Economics Network (BHECON) hosted its second Annual National Forum in Washington, D.C., at NatCon18, the National Council for Behavioral Health's annual conference. Representatives from the nine participating BHECON states joined national staff to hear from policy experts, researchers, and other advocates on the current state of health care policy and ways to improve behavioral health legislative advocacy efforts moving forward.
National Trends in Health Care Policy
The forum began with a panel of national health policy experts. Rachel Roubein, a health policy reporter from The Hill moderated a conversation around the future of the Affordable Care Act (ACA) and other safety-net programs between Elizabeth Carpenter, Senior Vice President at Avalere, and Elisabeth Wright Burak, Senior Fellow at Georgetown University's Center for Children and Families. The panelists discussed the changing landscape of health policy, highlighting that the Trump Administration is pushing for more flexibility for states, shifting the locus of such policymaking to state and local governments.
Sharpening the Tools in Your Advocacy Toolbox
A common theme from the forums' advocacy trainings was the importance of building professional relationships, both with individuals in legislative offices as well as with other community stakeholders passionate about similar issues. Representatives from two BHECON states, Illinois and Kansas, briefly shared their recent advocacy successes. Eric Foster, VP of Substance Abuse Policy and COO of the Illinois Association for Behavioral Health, stressed the importance of building relationships with legislative staff when bringing issues to them, a sentiment echoed by several others throughout the day. Kyle Kessler, Executive Director of the Association of Community Mental Health Centers of Kansas recounted conversations with legislators where he had to come up with creative solutions to stretching government funds.
A presentation by Seth Turner from the Congressional Management Foundation overviewed what legislative staff look for in leave-behind advocacy and briefing materials, and how to be most effective when meeting with Congressional offices. Mr. Turner suggested developing briefing materials while keeping simplicity and clarity in mind, and bringing information on the impacts that certain legislation will have on the Member's constituency. It is also important to share materials shortly before the meeting to allow staff members time to digest, to discuss the implications during the meeting, and to follow up with any additional information after leaving, according to Mr. Turner's presentation.
Biggest takeaway from our briefing materials training: Make it easy on Congressional staff to consume your info! Bring data, specific asks, and concise & clearly-presented materials. Even better if you email your one-pager the day before your meeting. #NatCon18

— BH&Economics Network (@BHEconNetwork) April 22, 2018
Using Data to Drive Policy
To align with BHECON's goal of driving evidence-based public decision making, the day's agenda included opportunities for attendees to learn how to better use the data chartbooks that have been developed for their states by partners at the USC Leonard D. Schaeffer Center for Health Policy and Economics. Midway through the forum, Seth Seabury, PhD, Director of the Keck-Schaeffer Initiative for Population Health , offered insights on using these data to demonstrate the financial return from investing in community-based behavioral health treatment for policymakers. After highlighting statistics that show the breadth and depth of need for such supports, Dr. Seabury made the case that the benefits seen from investments in these supports are diffuse and difficult to measure, but are far-reaching and often impact secondary stakeholders like the education and criminal justice systems.
Behavioral health investments do take money upfront, but when you can show the $$$ saved long-term (not to mention the improvement seen in people's lives), you can start to build wise, effective public policy. @SchaefferCenter #NatCon18

— BH&Economics Network (@BHEconNetwork) April 22, 2018
Attendees were also invited to roundtable discussions with representatives from the USC Schaeffer Center to provide feedback on the usefulness of the state chartbooks. Comments made during this portion of the forum will be taken into account for future collaborations between BHECON and the Schaeffer Center.
Thank You to Our Sponsors and Partners!
BHECON activities, including the 2018 National Forum, are generously supported by Alkermes, Genoa, and the New York Community Trust. BHECON would also like to thank our research partners at the USC Schaeffer Center, and our partners from the nine participating states.
Presentation: