Announcement Date: November 9, 2017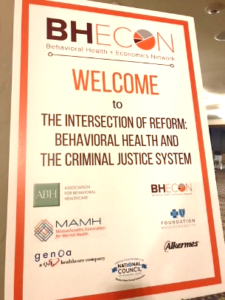 On November 9, 2017, the Association for Behavioral Healthcare, Massachusetts Association for Mental Health, and Blue Cross Blue Shield of Massachusetts Foundation, in partnership with the Behavioral Health + Economics Network (BHECON), hosted a forum on innovative practices for integrating behavioral health and the criminal justice system.
The forum, "The Intersection of Reform: Behavioral Health and the Criminal Justice System," explored innovative approaches across the country and in Massachusetts to address the overwhelming number of individuals who enter the criminal justice system needing behavioral health treatment. The forum brought together over 100 attendees, including mental health and substance use treatment providers, police officers and criminal justice officials, state legislative staff, county and state-level government officials, and associations and organizations committed to improving access to the best care.
Forty percent of all people with Serious Mental Illness (SMI) will encounter the criminal justice system at some point in their lifetime
Since 1980, the number of those incarcerated in the U.S. has tripled and people with mental illness are nine times more likely to be imprisoned.
"I see more people a day with mental illness than a psychiatrist does." – The Honorable Steven Leifman
A panel of national experts shared their own experiences in leveraging existing funding from partner organizations to divert individuals from jail and reduce recidivism. Panel members also acknowledged the need for more collaboration and budget-sharing among state agencies, as the communities are powerful leaders in reform efforts.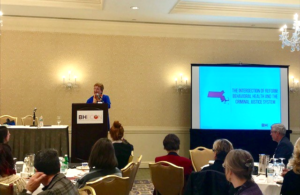 During her keynote address, the Commissioner of the Massachusetts Department of Mental Health emphasized the need to scale programs and services that are proven to work and invest in early intervention. While funding is always an issue, it is not the primary problem. In Massachusetts, for example, state government is not the barrier to implementing new ideas, but rather it is getting communities to rally around shared priorities. This echoed an earlier statement made by the national panel that if the community comes together, sets up common goals, and looks to treat those who are sick, funding will become available.
"We need to be prepared to measure, re-measure and scrap what doesn't work. We've got to let the data drive the decision making." – Commissioner Joan Mikula
The Commissioner also acknowledged the lack of available space in both substance use units and state hospitals and the shortage of affordable housing that contribute to many individuals becoming "stuck" in both the criminal justice and behavioral health care systems in Massachusetts. This prompted concerns and questions regarding affordable housing, specifically for individuals released from jails and prisons or for individuals who are homeless and are not receiving necessary services for mental health conditions, who then often cycle through the criminal justice system.
Innovative programs to divert people from the criminal justice system into community-based treatment are happening throughout the country and in Massachusetts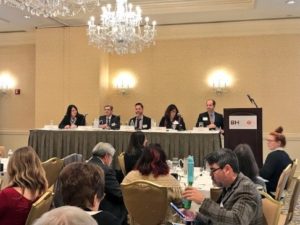 In addition to the national perspectives presented by the morning panel, a panel of Massachusetts-based organizations highlighted innovative programs happening at home, building justification for future scaling across the state, including peer networks, re-entry services, MAT programming in jails, and police training and CIT programs. Panel members shared that recently 182 Massachusetts Police Departments have signed on to the One Mind Pledge to train 100% of officers in Mental Health First Aid and 20% of officers in CIT. They also expressed a need for more data, specifically related to reentry services, to persuade policymakers and said that it was difficult to work within legacy systems with non-normalized data.
"Police training is needed. It is a fabulous use of public resources… only 25% of Police Departments right now have training, there is no good reason for that." – Chief Justice Gants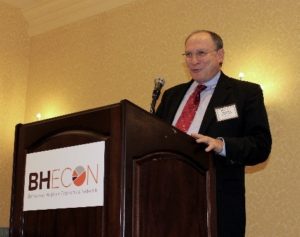 Closing the forum, Chief Justice Gants of the Massachusetts Supreme Judicial Court, gave a rundown of the nine things currently occurring to create change in the court system, such as recognition for the role of collaboration, a systemic focus on issues of race, poverty, drug use and mental health, and commitment from court leadership to adjudicate mental health related cases. "Mental Health courts are not as beloved as drug courts," Justice Gants said, "and it is a data issue."
There is also an opportunity for early intervention, according to Commissioner Mikula, to provide behavioral health services and prevent future arrests or emergency room visits related to mental health needs. "Massachusetts is 9th in the country for the number of children suspended and expelled in a pre-school environment," Mikula added. "If we track them, we know where they will end up. Kids are the pipeline and if we don't get at the pipeline [the demand will not decrease]."
The event concluded with a call-to-action by Chief Justice Gants, appealing to the audience to consider that the greatest gains in this field of behavioral health and criminal justice reform have been made by individuals who are creative and relentless in pushing forward programs that work, and by asking themselves the question, "What if?"
Attendees left with the data and knowledge to improve collaboration and combine efforts to expand diversion programs and reduce recidivism through access to treatment. As one attendee shared in a post-forum survey, "the Departments of Corrections, Public Health and Mental Health can no longer stay siloed in addressing critical issues at the intersection of behavioral health and the criminal justice system." There is a desire among attendees to support Commissioner Mikula's call to expand the programs that are working in Massachusetts and 86 percent of attendees responded they would be engaged in a unified rally cry for reform.
Presentations: