Announcement Date: May 15, 2019
BHECON joined the Illinois Association for Behavioral Health, the Community Behavioral Healthcare Association of Illinois, and the Illinois Association of Rehabilitation Facilities to host a legislative breakfast and advocacy forum. The forum, "Behavioral Health Advocacy Day: Building Community," gathered 80 behavioral health providers, consumers, state legislators, and community members for a half-day event focused on bringing data and best practices to bear in the state's legislative and regulatory conversations around behavioral health.
IL Faces Unique Challenges in Behavioral Health Treatment Delivery
Illinois has seen a 215 percent increase in the shortage of behavioral health care professionals between 2017 and 2019, an increase that far outpaces surrounding states by as much as 11 times. Attendees attributed this stark contrast to the state's budget impasse, wherein the state legislature did not finalize a budget from mid-2015 to mid-2017. Many behavioral health treatment organizations suffered from a lack of state funding during the impasse, which impacted staff members and likely worsened the workforce shortage. This shortage has ripple effects to the state's residents and economy as almost one third of Illinois residents reported an unmet need of mental health treatment in 2017.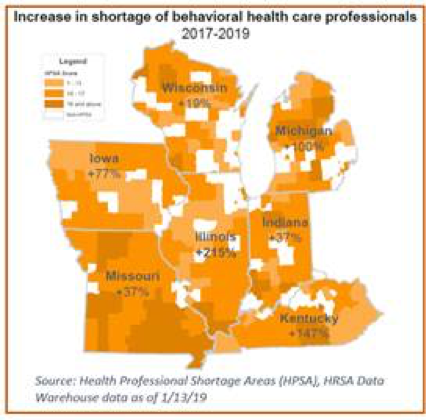 Trauma-Informed Awareness Day Observed
Earlier this year, the Illinois Senate adopted a resolution declaring May 15, 2019 Trauma-Informed Awareness Day across the state. This takes place during Mental Health Awareness Month. In observation of the day, a group of eight youth from Chicago's Mikva Challenge gave an overview of the impact of trauma on youth and public health, especially as it relates to health disparities across Chicago. A study from the University of Chicago found that the life expectancy in one neighborhood of Chicago called 'the Loop' was 16 years higher than that of a Washington Park neighborhood, just 8 miles down the road, due to the difference in traumatic experiences within each community.  The youth delegation also shared practical coping skills they have learned for attendees to use when facing stressful situations, including breathing exercises and mindfulness, and shared local resources for more extreme crisis situations.
A group of youth from @MikvaChallenge joins us this morning to draw attention to the impact that trauma has on #mentalhealth, to bring data to the conversation, and to celebrate Trauma-Informed Awareness Day in IL. pic.twitter.com/uBlb0eSKD6

— BH&Economics Network (@BHEconNetwork) May 15, 2019
Next Steps for Integrated Health Homes
Before the 2018 elections, Illinois' former Governor Bruce Rauner and his administration had crafted a State Plan Amendment (SPA) that would move the state's health care delivery system toward a model of integrated health homes. Following the election, current Governor J. B. Pritzker and his administration have been working to review the previously-approved SPA and to refine the proposal to fit the state leadership's new direction. To shed light on the conversation, Natalie Cook, the Integrated Care Manager from the Missouri Coalition for Community Behavioral Healthcare, provided an overview of the steps Missouri took during their planning period, which set in motion a program that is now widely regarded as a national model of excellence. Natalie discussed high-level considerations her state took into account during their planning process, as well as a more detailed description of the state's quality measures and steps toward implementation. Behavioral health providers have to speak up and collaborate with the state to be sure their voices are heard throughout the transition to integrated health homes to highlight the realities of the behavioral health system on the ground.
Over 24k individuals are now enrolled in MO's integrated health home model and receiving whole-person care. The state has seen over $300 million in cost savings since implementation, proof positive that small changes make a big difference in individuals' health.

— BH&Economics Network (@BHEconNetwork) May 15, 2019
After the forum, attendees made their way to the state capitol equipped with research, data, and insights to speak with their legislators and advocate for sound behavioral health policy.
Presentations and materials from the day are as follows: